Tours on Vatnajökull
Such is the nature of one of the most beautiful things on earth: it will disappear.
Karal Ann Marling, Ice - Great Moments in the History of Hard, Cold Water
You can choose between several e-tours with experienced guides.
If you need more information we can send you more information through the post.
The first time people take one of our tours, it's out of curiosity. Visitors want to see the midnight sun, the hot springs hidden in caves of ice, and the mountains glacier. The second time they visit, it's often because they're convinced they left something behind the first time they were here. To learn more, explore this web.
Glacial Adventure
To experience the pristine beauty of the glacier, take an organized expedition on the glacier with a skidoo (snowcat) or jeep with an experienced guide. You can start the adventure tour in Höfn, Skaftafell, crossroads to Jöklasel (F985) or Jöklasel.
---
Glacier Walk - walk on ice
All year round, Svinafellsjökull is accesible.
In this tour we drive to the tip of an out sled glacier from Vatnajokull ice cap, put on crampons, and with ice axe in hand we make about a 2 km guided excursion onto the glacier.
The glacier surface and color changes a lot depending on the time of year, but one thing is true for the whole year, it is always an out of this world experience to walk on a glacier. Price €379
---
Cruising
Where Iceland meets Greenland. Watch the icebergs calve from the glacier beside you, on a breathtaking cruise around a glacial lagoon.
---
Waterfalls show
All the year round, see the powerful Waterfalls in south Iceland. First we visit the National Park, Thingvellir and Öxarįfoss. Then the golden Gullfoss and Geysir in second chapter. After that Urridafoss, the largest and most spectacular of all the waterfalls of river Thjorsa. Then we take the famous Seljalandsfoss and Skogarfoss. Foss į Sķšu is next and near Kirkjubaejarklaustur we will see Systrafoss, Raušįrfoss and Stjornarfoss. Powerful waterfal trips or safari convoys are an experience of a lifetime.
---
Eyjafjallajokull - vulcano tour
All year round, Eyjafjallajökull educating vulcano tours to vulcano Eyjafjallajokull glacier. The American Geological Institute named the volcanic eruption in Iceland's Eyjafjallajökull glacier the eruption of 2010, out of 64 eruptions. Skogarfoss waterfall and Seljalandsfoss waterfall are in the realm of Eyjafjallajokull. Amazing trips or safari convoys are an experience of a lifetime. Price €215
---
Ice climbing tours
We drive to the tip of an amazing glacier, put on crampons, and with an ice axe in hand we walk about 2 km guided excursion onto the glacier.
Optionally, we also have a short ice climbing route to try. We use ropes and climbing equipment to ensure your complete safety. No exceptional fitness nor climbing experience is required, only guts!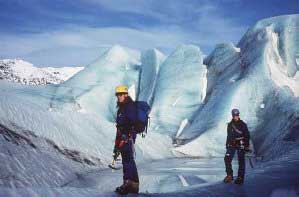 ---
Ascent of Iceland's highest mountain , Hvannadalshnśkur
The ascent is a challenge for serious hikers and the rewards are the breathtaking views across Vatnajökull and southeast Iceland, and the experience of hiking through a glacial wilderness.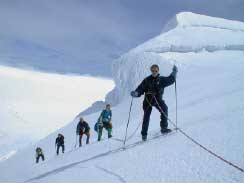 ---
Whale watching tours

Tours from Reykjavik, Husavik, Hafnarfjodur and Snaefellsnes. Minke whales are seen on virtually every excursion. Among the larger whales, Humpbacks are the most common, but species such as Sei Whales, Fin Whales and even the mighty Blue Whales have been spotted. White beaked dolphins and harbour porpoises are also common in the area.
reserve a tour